There are lots of things to be thankful for on Thanksgiving. One is that I have a home and enough to eat.
Met a homeless man this morning on Princess St and gave him breakfast money. After hearing Myra speak at Trinity Bible Church last week about her ministry knitting blankets and hats for homeless people it makes you look a second time. He had the dark clothing that just blends in... All of that. I couldn't not give him something.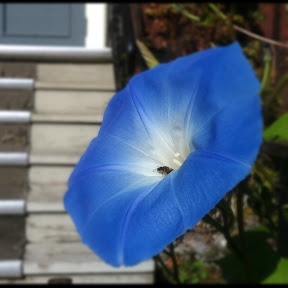 Saw these morning glories in the lovely light in front of an old brick mansion on a wrought iron fence and the small wasps visiting for breakfast and had to take a picture to remind myself how lucky I am.
Thanksgiving this year has the potential to be incredibly sad and lonely but thankfully I'm being blessed with all sorts of wonders that lift my spirits and leave me grateful to be me.
- Posted using BlogPress from my iPhone
Location:Brock St,Kingston,Canada